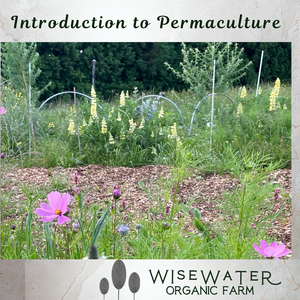 Wisewater Organic Farm
Tour | Introduction to Permaculture | Thurs 9th March |Sustainable Backyards
Regular price
$10.00
$0.00
Unit price
per
Tax included.
INTRODUCTION TO PERMACULTURE | SUSTAINABLE BACKYARDS PROGRAMME
10am to Noon  $10 Per Person 
Location: Wisewater Organic Farm, 911 McLaren Falls Road, Omanawa, Tauranga
This workshop/tour is co-hosted  with Envirohub's Sustainable Backyards  Programme of events for the month of March 2023.
Join us for a stroll around our farm while we discuss permaculture, what it means, how you can use its principles and how it helps our communities and the environment around us. 

Wear comfortable clothing, shoes/boots suitable for a farm, water bottle, sun hat.
Your Hosts
 Donna Tuck | NZ Cert in Organic Primary Production
Permaculture &  Organic Gardening Advisor & Educator
at Wisewater Organic Farm.
 Donna's passion is to educate others in the importance of the soil food web, sustainability, growing your own food and the reduction of reliance on artificial fertilisers, pesticides, herbicides and fungicides. She advises on the farm and is their workshop tutor for permaculture and organic gardening.

Brenda Donald | Former Pharmacist & Natural Health Consultant
Owner Manager at Wisewater Organic Farm 

---
Share this Product
---