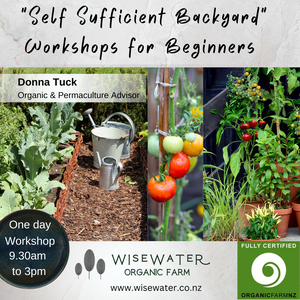 Wisewater Organic Farm
Workshop | Self Sufficient Backyard | Organic Gardening for Beginners
Regular price
$105.00
$0.00
Unit price
per
Tax included.
 9.30 am to 3.00pm  $105  per person (Max 10 participants)
This workshop is for those wanting to start their journey to food resilience and grow their own food at home in an organic and sustainable way. There will be an outline of organic & permaculture practices involved in building and protecting the soil, including companion planting, seed selection & planting, irrigation, weeding & harvesting. What to look for when selecting plants that best suit your plot & lifestyle. Outline of gardening by the moon and tips on how to manage pests & disease without using harmful chemicals. 

Prior to this workshop you will be sent a questionnaire to fill out and bring with you. It will cover questions for example eg sun direction, prevailing wind, rainfall etc for your garden pots location etc
 Morning tea provided, wear comfortable clothing, shoes/boots suitable for gardening, sunscreen and sun hat. There will be a 30 minute lunch break.
Terms & Conditions:These workshops are non-refundable, but If you are unable to attend, and we can fill your spot, then you can re book on another date or be entitled to a full refund. 

Your Tutor | Donna Tuck
Organic & Permaculture Advisor  | Wisewater Organic Farm Ltd
NZ Cert in Organic Primary Production
Donna a mother of 3, is a huge animal lover, obsessed with anything that has leaves and roots! She moved with her husband and family to a lifestyle block 8 years ago and this is where her love of permaculture began, along with her husband she researched and tried different things on their property and continues to learn while building their food forest.

Donna has a background in social services, spending 10 years working with families, as a community services coordinator with Plunket. The urge to do more with the land and the soil saw her change direction and focus on this passion.
Donna has a Certificate in Organic Crop Production from Toi Ohomai, after completing this course it has inspired her to educate others in the importance of the soil food web, sustainability and the reduction of reliance on artificial fertilizers, pesticides, herbicides and fungicides.
She is excited to be working at Wisewater Organic Farm, offering nutrient dense food to our lovely customers and this next chapter in offering workshops to help others understand what's going on under our feet and how we can preserve the life in our soil and in turn the soil will give us sustenance through healthy food at the same time as sequestering carbon from our atmosphere. It really is quite amazing.
---
Share this Product
---