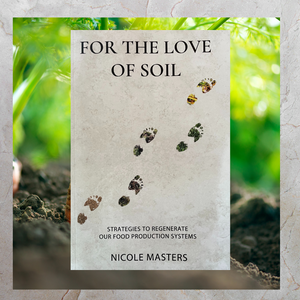 Wisewater Organic Farm Ltd
Book | For The Love of Soil by Nicole Masters
Regular price
$35.00
$0.00
Unit price
per
Tax included.
Nicole Masters a global soil expert (agroecologist), ties together the connection between soil health,  plant health,  animal health & human health.
Nearly a third of arable land worldwide has been lost to degradation and erosion over the past 40 years. With decades of experience in regenerative soil systems and their management, Nicole Masters delivers solutions to rewind the clock on this increasingly critical crisis. 
To face the challenges of today, we must take a soil-first approach to our landscapes, our backyards,  restoring natural cycles, and bringing vitality back to ecosystems. All the while putting the food back into food. We can all make a difference even if only by our choice of food.
---
Share this Product
---